Cancun is home to a huge number of all-inclusive resorts promising you white sandy beaches, all-you-can-eat food, unlimited drinks, and a "you don't need to leave our resort" experience.
If you do plan to venture out of the resort, there are a ton of things to do in Cancun beyond the sedentary beach life.
From archaeological sites to hidden pools, Cancun has a lot more to offer. Let's look at the best things to do in Cancun right now.
Explore the Cenotes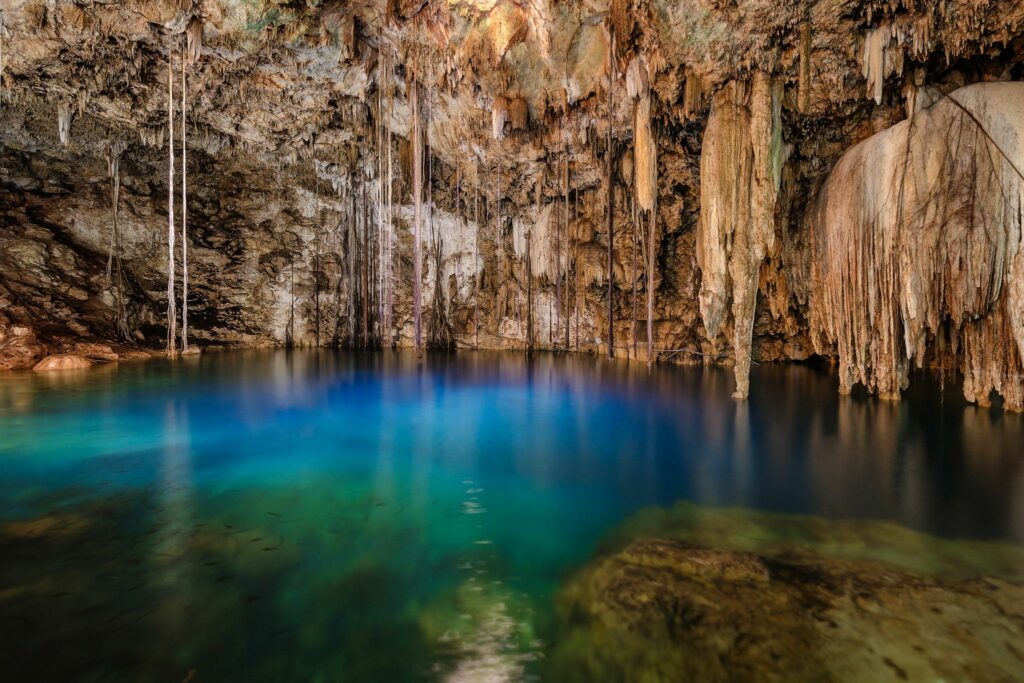 Cenotes ("sinkholes") are natural underground pools in a dark cave. These cenotes are very common in the state of Yucatan near Cancun.
The water is filtered naturally and you will notice the stunningly clear water with tiny fishes swimming everywhere.
You can't leave Cancun without visiting a cenote. There are over 6000 cenotes near Cancun: if you're short on time, try to add a cenote or two during your day trips. Most cenote tours on Viator will include hotel pick-up and drop-offs.
Explore the Underwater Museum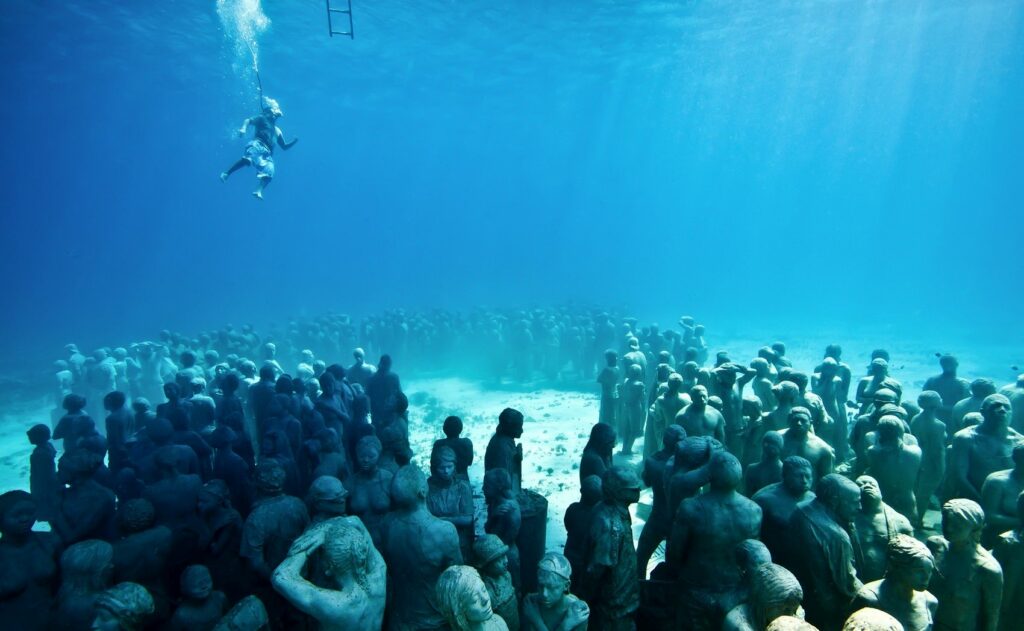 What's better than visiting a museum? How about visiting a museum with over 500 underwater sculptures! MUSA, Museo Subacuático de Arte, is a museum devoted to conserve and protect the coral reefs. It also happens to be a popular tourist destination since its inception in 2010.
To see the underwater museum, beginners should opt for snorkeling or book a glass-bottom boat tour. If you're an experienced scuba diver, you can see the sculptures up close and personal.
Museo Subacuático de Arte. Cerrada Las Golondrinas 24, Alfredo Bonfil, 77560 Cancún, Q.R., Mexico – Tickets
Playa Delfines and El Rey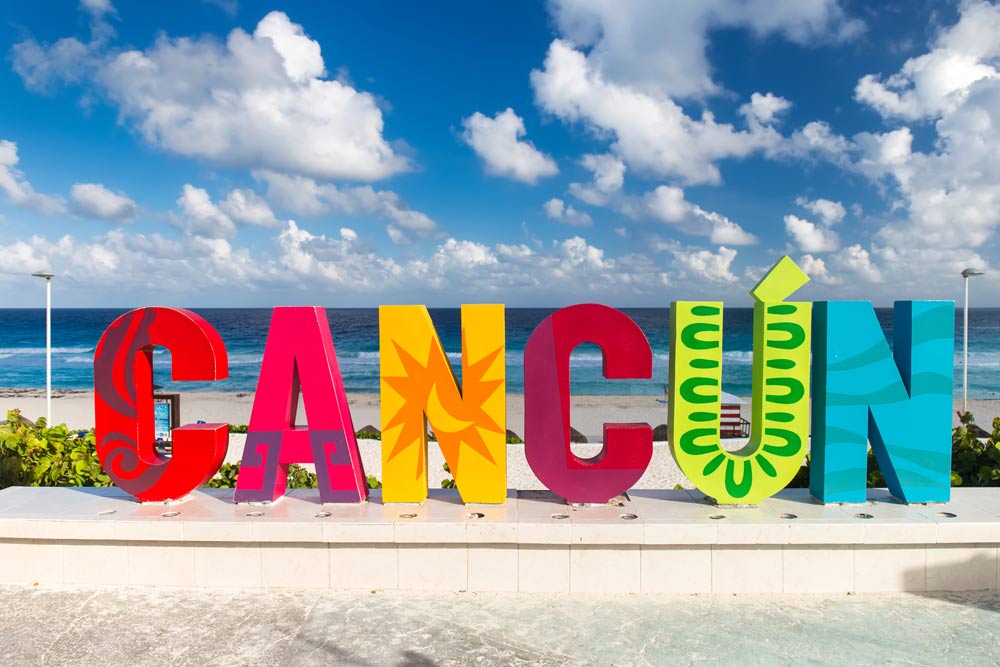 Playa Delfines (Dolphin Beach) is a free public beach in the Hotel Zone that is worth the visit because it is left undeveloped and kept most of its natural look. There are no hotels, restaurants, or buildings on this beach – only a few palapas and chairs.
If you're not staying at a beach resort, this is the beach you want to visit for a peaceful and relaxing day in the sun. You'll also find the colorful "Cancun" sign at the beach – perfect backdrop for your vacation photo.
After the beach, head over to the nearby archaeological zone called El Rey. It is made up of 47 structures built by the Mayans somewhere between 250-600 AD.
Playa Delfines. Kukulkan, Zona Hotelera, 77500 Cancún, Q.R., Mexico
El Rey Archaeological Zone. Hotel Zone, 77500 Cancún, Quintana Roo, Mexico
Visit Xcaret's Theme Park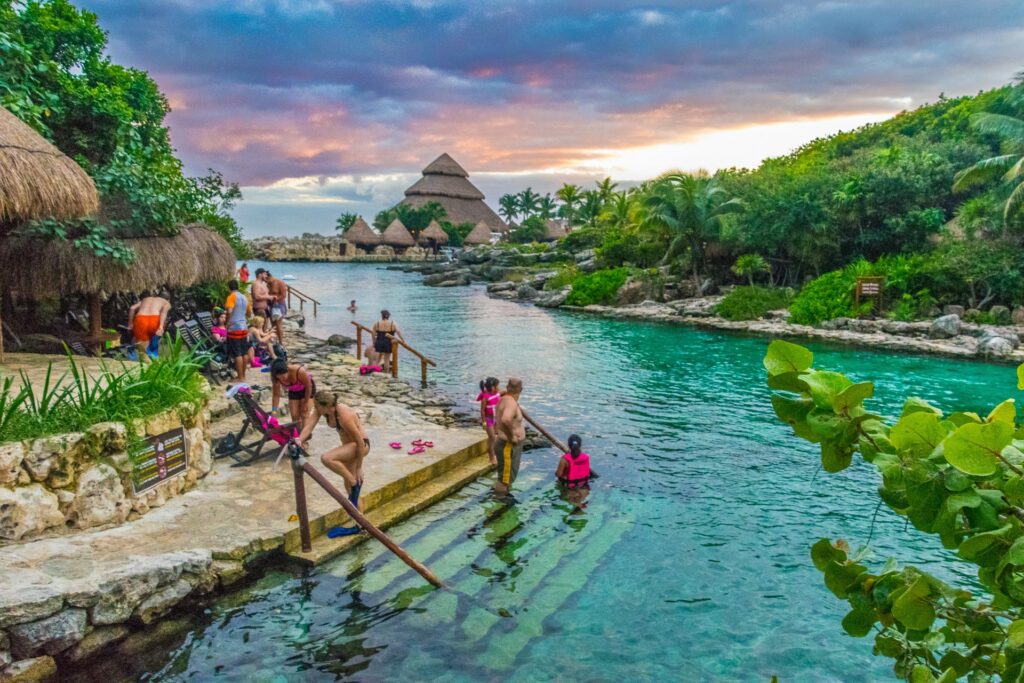 Built in the same area as the Xcaret archaeological site, the Xcaret Park is a theme park surrounded by jungle and natural pools. This is not your average theme park with roller coasters!
Since it is located a few minutes away from Playa del Carmen, we highly recommend you visit Xcaret at the same time.
If you purchase your ticket online here, you will be given free transportation to Xcaret from Cancun, Playa del Carmen or Riviera Maya.
Xcaret Park. Carretera Chetúmal-Puerto Juárez Kilómetro 282, Solidaridad, 77710 Playa del Carmen, Q.R., Mexico – Tickets
Zipline through the Jungle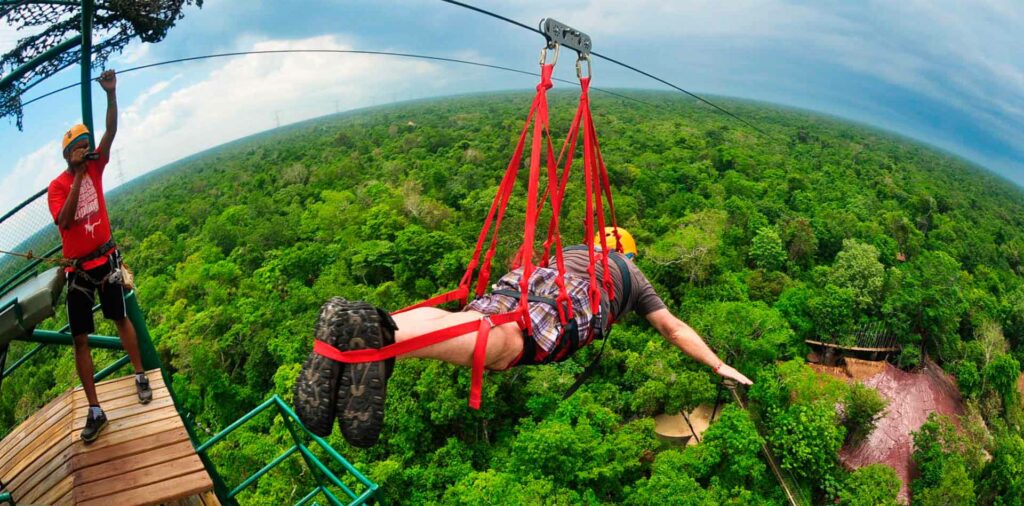 The same people that built the Xcaret Park also offers Xplor zip-lines: the tallest zip-lines in Cancun at 45 meters (49 yards) high.
With 7 different zip-lines, this is not for the faint of heart. Xplor also has amphibious vehicles (works on land and water), rafts, and cenotes.
This is the perfect time to make use of your action camera. If you don't already have an action camera like the reliable GoPro HERO, buy the YI 4K Action Camera for a cheaper – yet powerful – alternative on Amazon.
Xplor Park. Carretera Cancún -Tulum Km 282 Puerto Juarez, 77710 Playa del Carmen, Q.R., Mexico – Tickets
Explore Cancun's Hotel Zone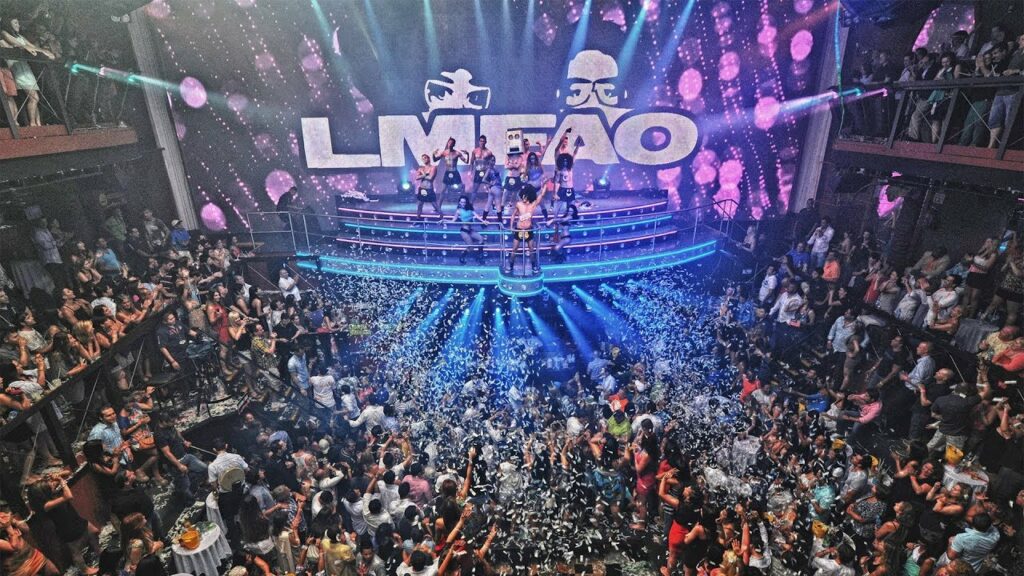 The Zona Hotelera (Hotel Zone) is known for its nightlife and parties. Don't miss out on Coco Bongo! It's a mix of a nightclub and a show at the same time. Drinks are unlimited if you purchase your tickets online here.
For shopping, head over to La Isla – it's an indoor-outdoor shopping village with shops, restaurants, aquarium, theater, and a Ferris wheel.
For luxury brands, the Fashion Harbour and Luxury Avenue Mall have many upscale brands along with Mexican luxury brands. Don't forget to take advantage of the tax refund when shopping in Cancun.
Getting around Cancun's Hotel Zone (Zona Hotelera) is extremely easy with the public bus and costs around $1 USD per trip.
Chichen Itza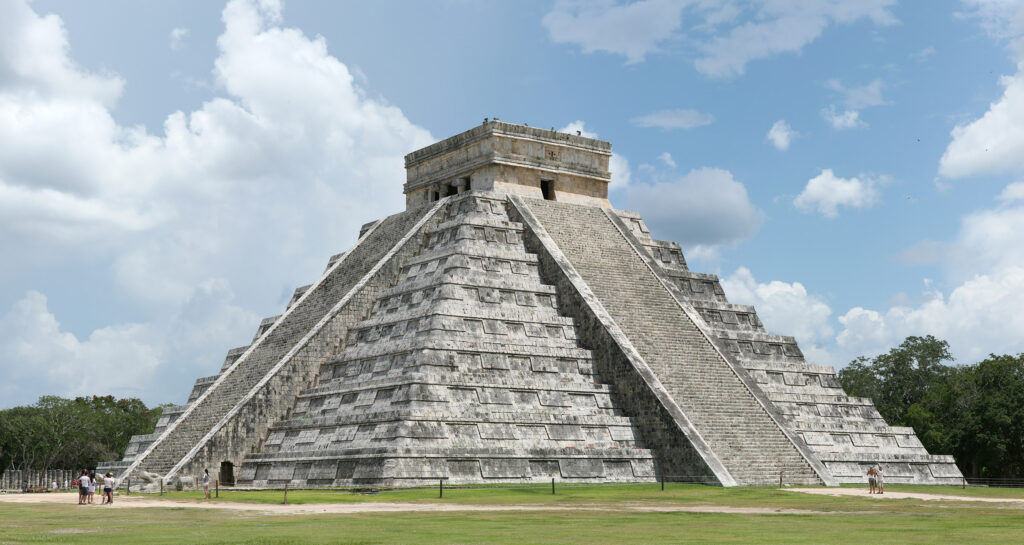 Thousands of years ago, the Mayan people built the jaw-dropping El Castillo (Temple of Kukulcan) – a large pyramid located in the ancient city of Chichen Itza.
Located about 2 hours from Cancun, it's a great day trip to take a break from the beach life. There was a time where you were allowed to climb the pyramid but that's no longer the case.
Chichen Itza is widely considered as one of the 7 Wonders of the World and is one of the most visited archaeological sites in Mexico. Unfortunately, that means it gets very crowded with tourists.
If you plan to book a tour, try booking a tour that arrives early to avoid the busiest times of the day.
Chichen Itza. Yucatan, Mexico – Tickets and tours
Snorkeling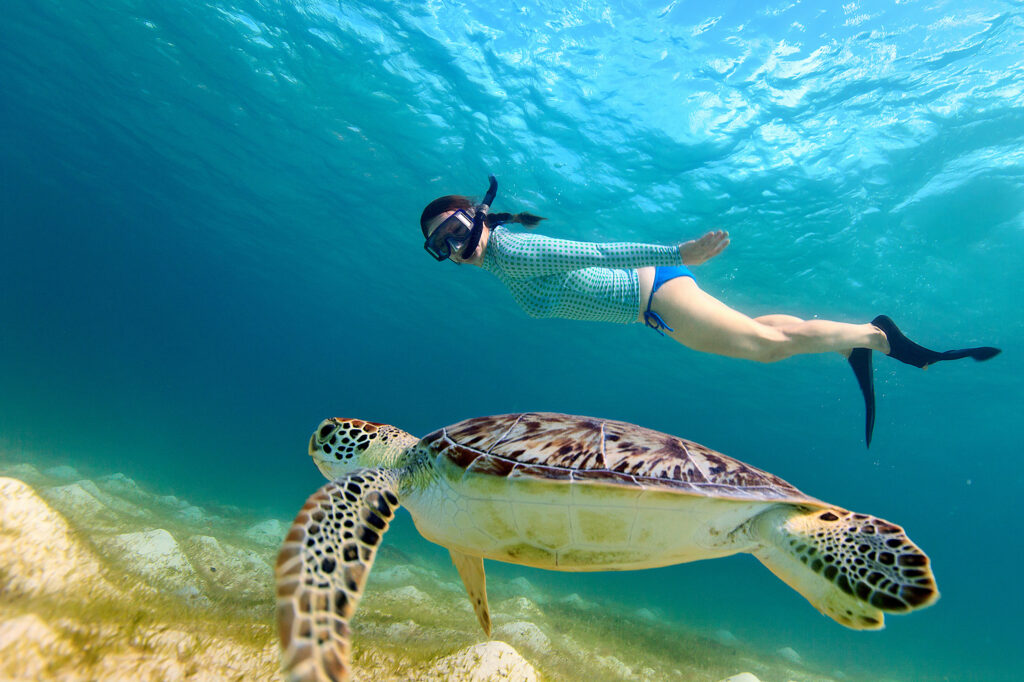 Cancun is home to some of the best snorkeling spots in the World whereas you can see everything from turtles to whale sharks to stingrays. Here are the best spots for snorkeling within 30 minutes from Cancun.
MUSA: The Underwater Museum should be at the top of your list
Punta Nizuc: Conveniently located at the south tip of Cancun's Hotel Zone
Puerto Morelos: About 30 minutes south from Cancun
Isla Mujeres: A snorkeling paradise that is only a short boat ride away
Visit Isla Mujeres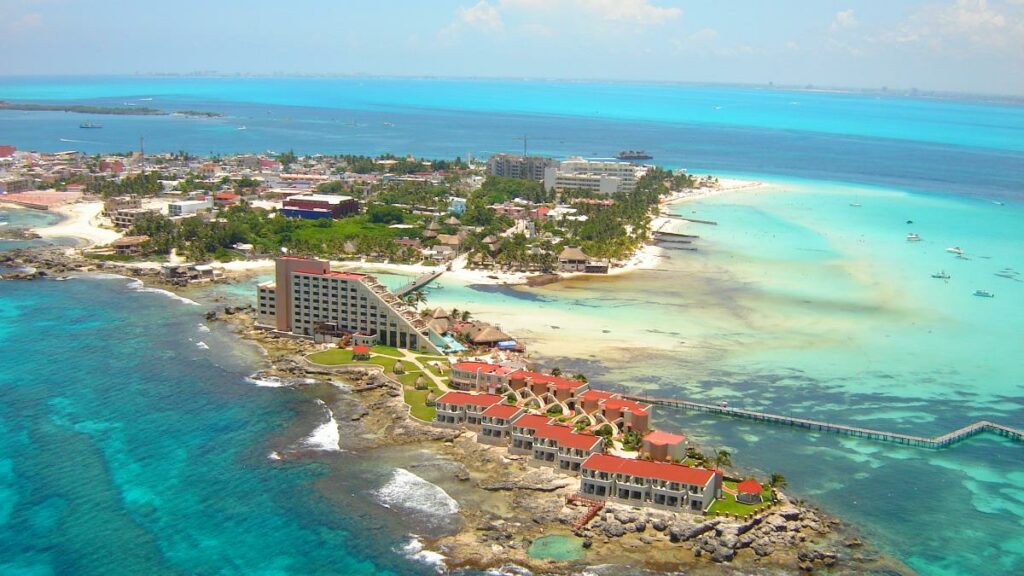 Isla Mujeres is an island located only 13 kilometers (8 miles) off the coast from Cancun. The Playa Norte (North Beach) is a great spot to either relax or to snorkel. There's also a good number of all-inclusive resorts on Isla Mujeres if you haven't booked a hotel yet.
Head over to the Tortugranja (Turtle Farm) to see different species of turtles and learn how this sanctuary is doing their best to protect endangered marine turtles.
Day Trip to Tulum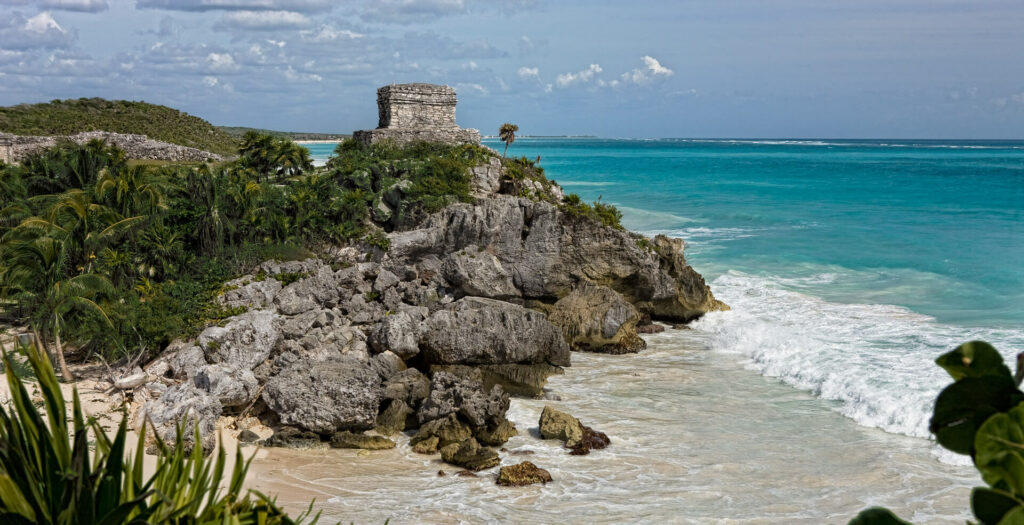 Tulum is a unique resort town built on the ruins of an ancient Mayan city overlooking the Carribean coast.
Once a quiet town, Tulum is now one of the most visited archaeological in Mexico after Chichen Itza and Teotihuacan near Mexico City.
Located only about 2 hours away from Cancun, you can visit both the Tulum Ruins and the nearby stunning beaches together during the same day.
If you have extra time, consider spending a few nights at one of the various boutique hotels in Tulum.
What about Downtown Cancun?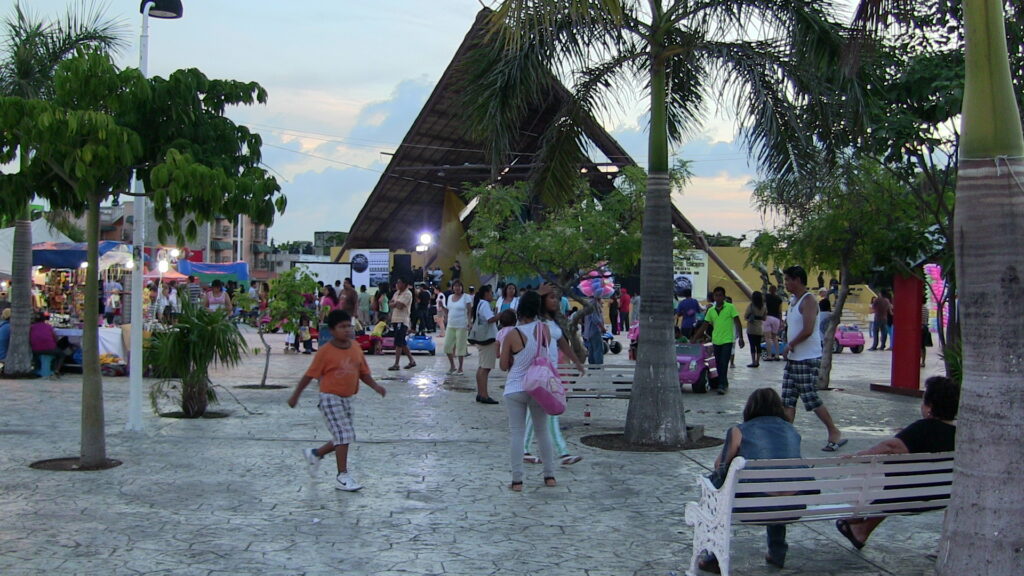 Located only a few minutes away from Cancun's Hotel Zone, El Centro (Downtown Cancun) provides an authentic taste of Mexican culture as opposed to the Hotel Zone.
El Centro is where many of the locals live so you will be able to find small shops, tons of street food, and local bars.
Head over to the Mercado 28 for the largest market in Cancun – this is a good place to buy souvenirs and taste some street food.
Parque Las Palapas is the main park where you can also find food carts, local handicrafts, and other goodies.
The wide boulevard Avenida Tulum is the heart of Downtown Cancun.
But is it safe? If you do a search online, you'll find polarizing answers to the level of safety in Downtown Cancun.
Some reviewers will rave about Downtown Cancun and prefer it over the Hotel Zone. Others swear that it is dirty, dangerous, and totally a waste of time.
Like most polarizing questions, the answer lies somewhere in the middle. If you're not the adventurous type – maybe it's best to stay in the Hotel Zone.
If you're a travel veteran and know how to stay a low-profile, El Centro is a hidden gem not overrun by tourists and is an immersive way to experience the local life.
Other things to do
Visit the island of Cozumel
Celebrating something special? Try a fine-dining experience at Tempo by Michelin star Spanish chef Martin Berasategui
Eat and drink all day at an all-inclusive resort – why not?
Most tourists will come to Cancun for its all-inclusive resorts and there's nothing wrong with that!
However, we do suggest adding at least one excursion – chances are it will be the most memorable part of your trip to Cancun!
Did we miss anything? What do you think are the best things to do in Cancun?
Looking to book your next trip? Check out the following services we use!
Support NextTravelTips by sharing our content and using the links in our articles to shop. We may receive a small commission (at no extra cost to you) so we can contribute to create helpful free content. Thank you, we appreciate it!
Please follow and like us: