It's time to skip the beaches and head over to the largest city in North America: Mexico City. Located in central Mexico, this immense city is extremely underrated.
Mexico City offers something for any type of travelers: historical architecture dating from the Aztecs, mouth-watering street-food, an incredible variety of traditional cuisine, beautiful parks, a bustling nightlife scene, and much more.
There are so many things to do and see in Mexico City. It is impossible to compress everything into a short list!
Here are some of the best things to do in Mexico City that you absolutely cannot skip.
Explore Chapultepec Park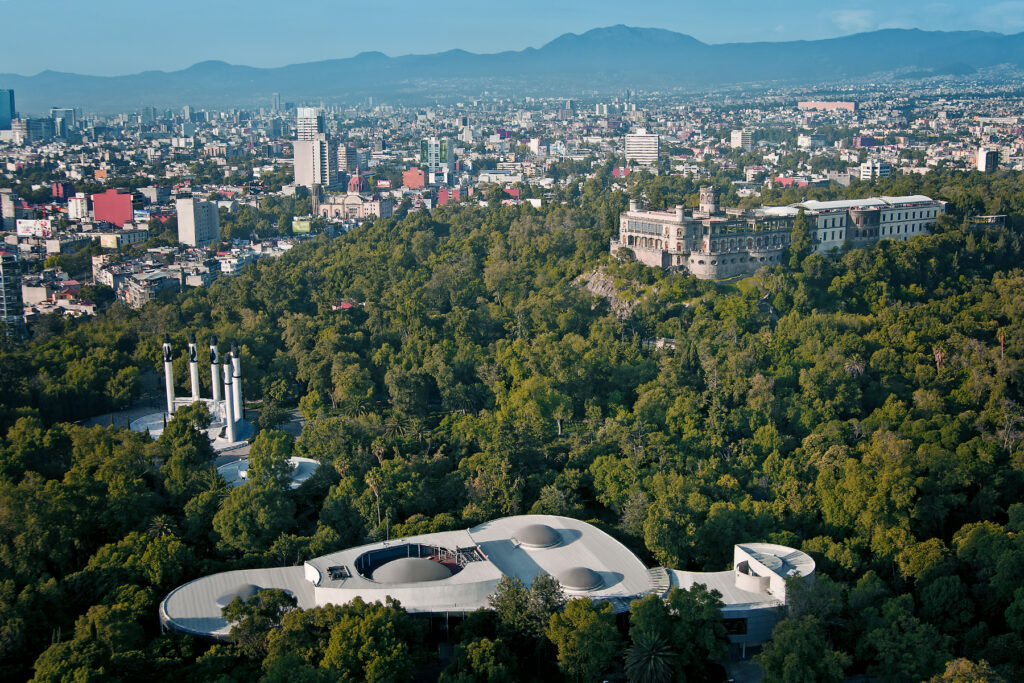 Bosque de Chapultepec is the largest park in Mexico City – almost twice the size of Central Park in New York City. You can spend the whole day here and you wouldn't be able to see everything.
Visit one of the various museums inside the park, the National Museum of Anthropology or the Modern Art Museum should be on your priority list. There's also the National History Museum in the castle (more on that later).
The park also houses a free zoo with almost 2000 animals! If you've never seen pandas, there are two giant pandas at this zoo.
There's also a theme park, a large lake, and plenty of green areas. Don't worry about getting hungry, you'll find street vendors inside the park.
Visit the Only Royal Castle in the Americas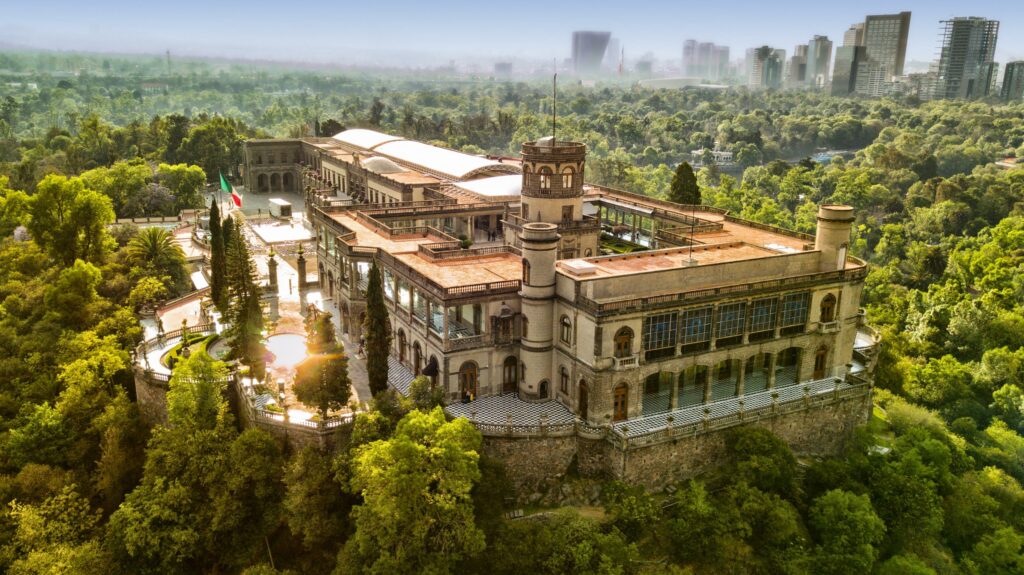 Located in the middle of Chapultepec Park, the Castillo de Chapultepec is an opulent royal castle at the top of the hill at 2,325 meters (7,628 ft) above sea level.
It took us about 20 minutes to walk all the way to the top where the castle sits. Wear comfortable shoes!
This castle was home to many former viceroys, emperors, and presidents. Today, it is open to the public and the museum (Museo Nacional de Historia) inside the castle hosts various showrooms showcasing Mexican History.
Zócalo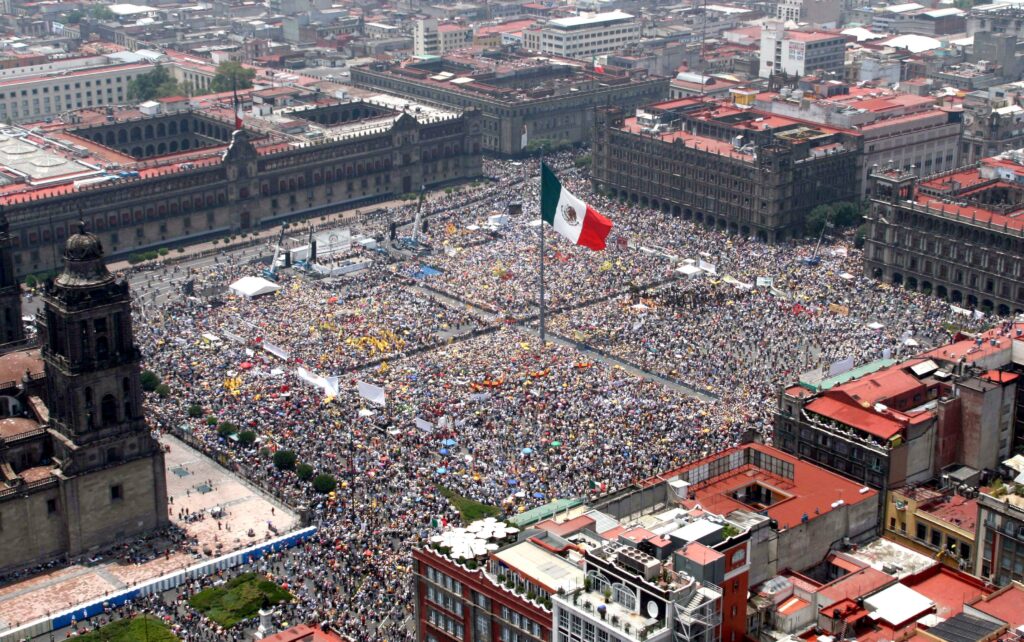 Zócalo is one of the world's largest city squares with a massive Mexican flag proudly flying in the middle of it all. This has been the gathering place for all kinds of events including ceremonies, parades, festivals, religious events, and even protests.
If you're not sure where to go first, Zócalo is a great starting point. Within walking distance, you will find picture-worthy buildings, historical monuments, shops, restaurants, and many more.
If you happen to visit Zócalo, the access to cars is extremely limited – especially during special events – using the metro (subway) or by foot is your best option.
Cheap Eats: Tacos, Tortadas, Churros, Street Food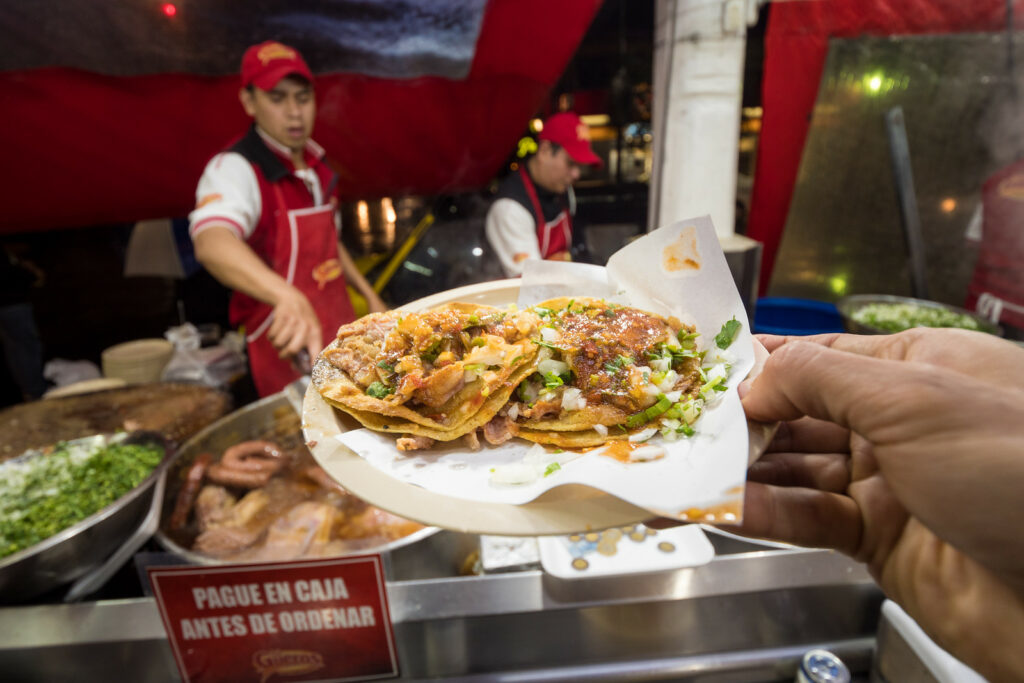 Street food is everywhere in Mexico City! At every corner of the street, there's a vendor offering food ranging from succulent tacos to fresh-cut fruits with spices on top.
There's a ridiculous amount of food options that would be impossible to cover in this list. Here are a few ideas to get you started but DO explore and try different food items as much as you can.
Tacos: Tacos al pastor, tacos de guisados, pork carnitas, suadero, barbacoa… (Just try them all!)
Tortas: Mexico's version of a sandwich filled with a meat of your choosing – perfect when you need a break from tacos.
Pozole: This rich meat broth is a classic Mexican comfort food with tons of flavor.
Also: Horchata (rice/coconut based drink), Pulque (Traditional alcoholic beverage made from maguey), tostadas (crispy tortilla), mole poblano (a rich sauce typically made from chocolate, chili peppers, and 10+ ingredients), and so much more.
A few of our friends suggested food tours like these ones. We preferred exploring and trying things on our own.
Explore La Condensa and Roma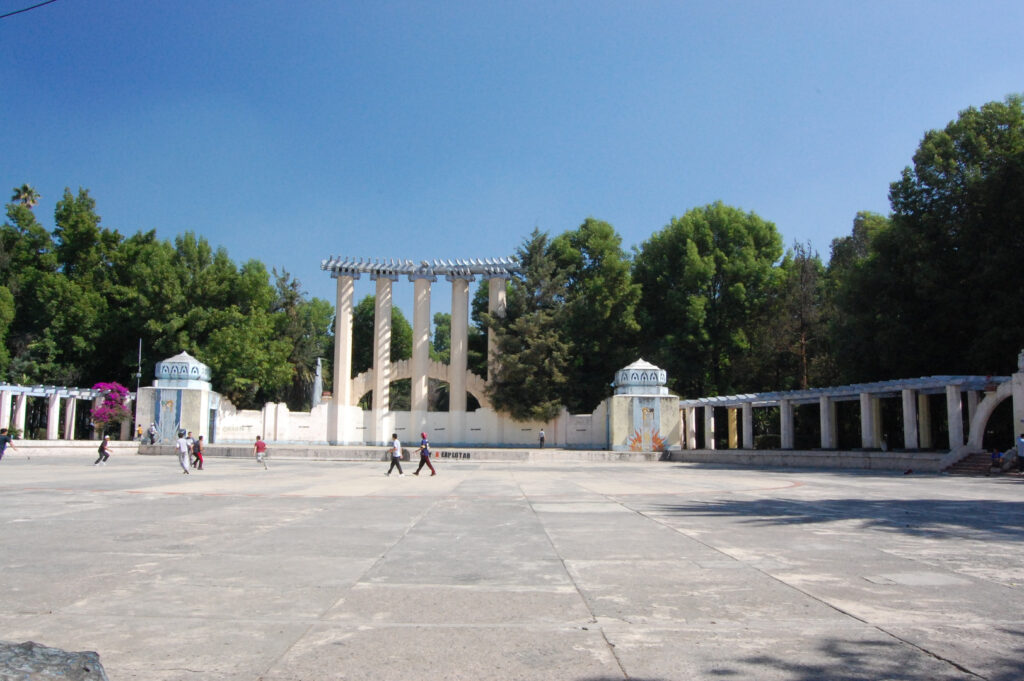 La Condesa and Colonia Roma are the trendiest neighborhood offering various parks and a bustling restaurant and nightlife scene.
Visit Parque Mexico (also known as Parque San Martin) which is a large park filled with Art Deco architecture.
Plaza Rio de Janeiro is another tranquil park in Colonia Roma. You can't miss it, there's a replica of Michelangelo's David right in the middle of it all
Ready for a few drinks? Head over to Licoreria Limantour in Roma for a Latin twist to craft cocktails. Licoreria has been voted #11 in the list of The World's Best Bars.
As a great alternative, Hotel Condesa DF's rooftop bar is a trendy spot to have a drink.
If you can't decide on which neighborhood to stay in Mexico City, both La Condesa and Colonia Roma are great options for its location and walkability.
Floating Gardens of Xochimilco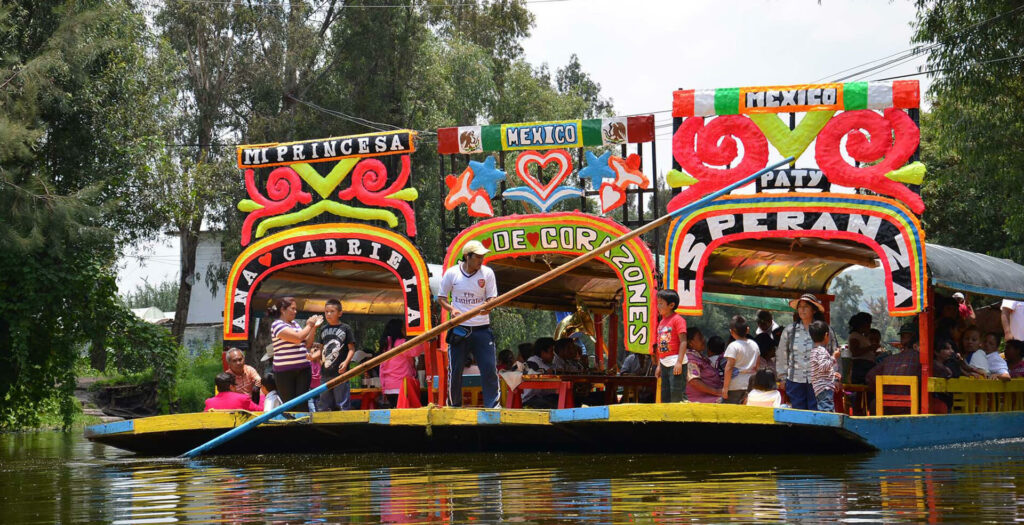 Located about 45 minutes away from the center of Mexico City, Xochimilco's colorful canals is the "Venice of Mexico". The trajineras are gondola style boats that fit up to 20 people – perfect for a party.
Whether you're looking for a quiet and peaceful boat ride or looking to party with tons of drinking, mariachi music, and a handful of friends – Xochimilco's colorful boats is the right place to do it.
Visit the Frida Kahlo Museum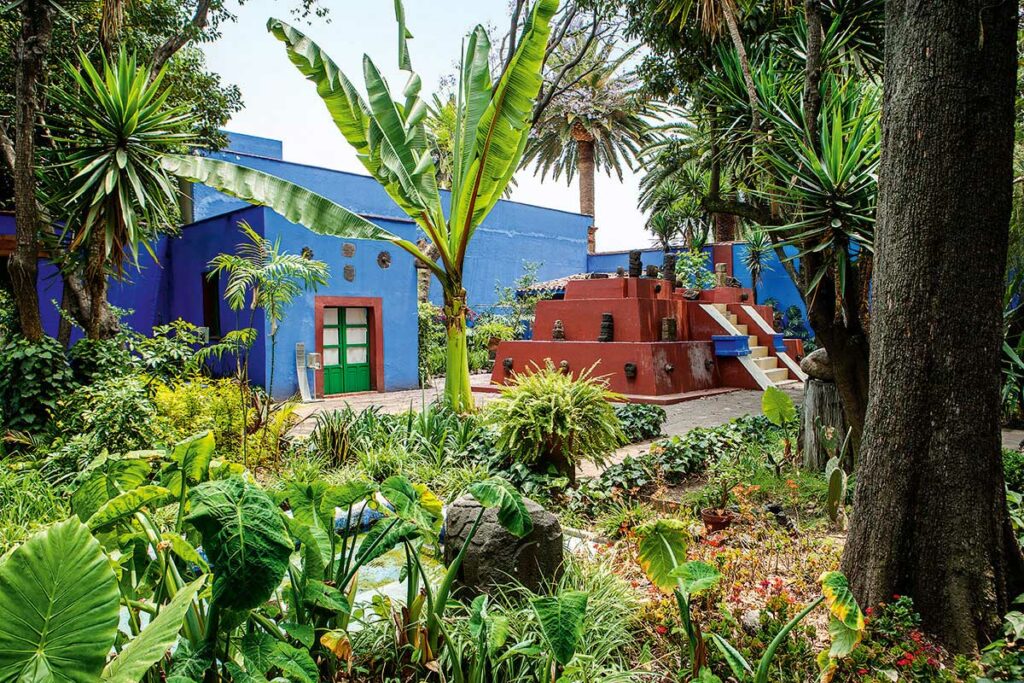 La Casa Azul ("The Blue House") is a museum located in the Mexico City neighborhood of Coyoacán. This house is where the Mexican artist Frida Kahlo grew up, lived, and eventually passed away.
The fascinating part of La Casa Azul is how everything is well preserved and left untouched. The backyard area is beautiful with bright blue walls with the right amount of greenery.
Be warned – this is one of Mexico City's busiest attractions. The line-up at this museum is extremely long. The staff said people wait up to 2 hours to get in.
Buy your tickets online on the official website here to avoid the slow-moving line-up.
Plan to arrive 20-25 minutes before your scheduled time. If you want to take pictures, bring some pesos to pay for camera use at the entrance.
For private tours, try looking for tours that also include the "Museo Estudio Diego Rivera y Frida Kahlo" like this one.
This is where Frida and Frida's husband Diego lived which was converted into a museum to showcase their work. Luckily, it is much less popular than Casa Azul so there's usually no long line-ups.
Admire Diego Rivera's Work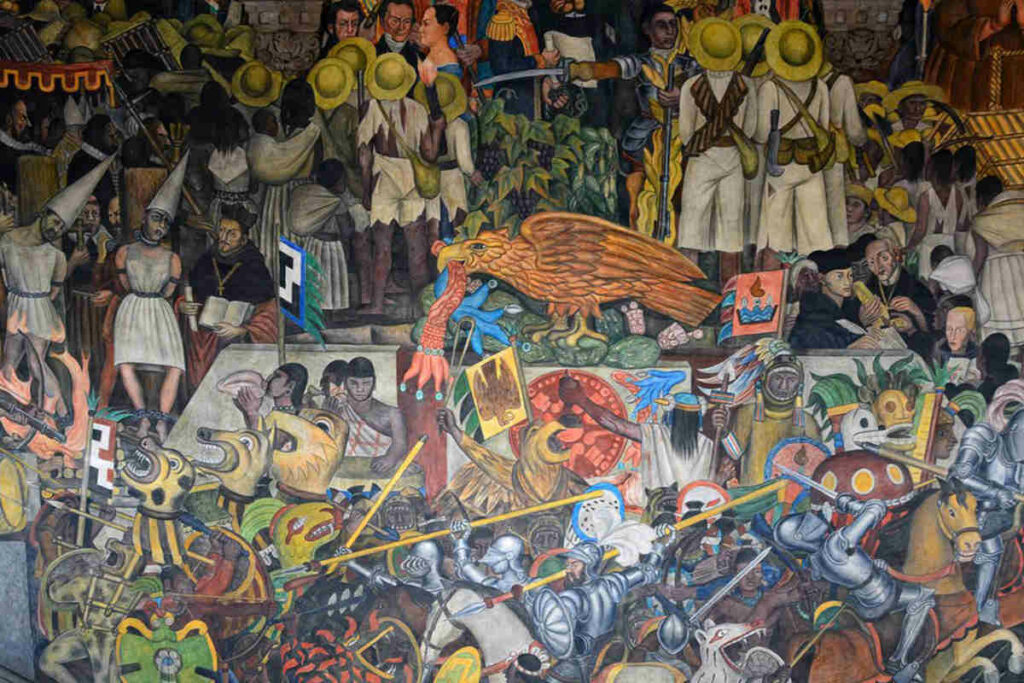 Frida Kahlo's husband Diego Rivera was one of the most influential Mexican painters in his time. He is known for his giant-sized murals depicting important Mexican social and political messages.
His work is featured all over Mexico City – you must see his murals in person to fully appreciate his talent.
Here are the locations you can find Diego's work over the years:
El Palacio de Bellas Artes: You'll find many of Diego's work in this museum located in Centro Historico including his famous "Man, Controller of the Universe".
Museo Mural Diego Rivera: A short walk away from El Palacio, this museum features only one mural "Sueño de una Tarde Dominical en la Alameda Central".
Palacio Nacional: This is where you'll find "The History of Mexico" mural depicting the many struggles of the common Mexican people. Other of Diego's work is featured prominently here as well.
Murales de Diego Rivera en la Secretaria de Educacion Publica: Many of Diego's early work is featured here along with a dozen other Mexican artists.
Estadio Olímpico Universitario: Using colored stones, Diego Rivera created a mural on the east side of this University Olympic Stadium.
El Palacio de Bellas Artes
El Palacio de Bellas Artes is an iconic building in Mexico City. It is the home to many Mexican artists' murals, exhibitions, theatrical performances, events in music, dance, and opera.
The exterior of the picturesque building is an appealing mix of Neoclassical and Art Nouveau style.
If you want a top down view of El Palacio de Bellas Artes, head to the Torre Latinoamericana. It is one of the tallest skyscrapers in Mexico City. From there, you'll have a great view of the city and El Palacio.
Another option is to go to Café De La Gran Ciudad located inside the Sears building right in front. Grab a seat in the patio area to enjoy your meal with a beautiful view of El Palacio.
Monument to the Revolution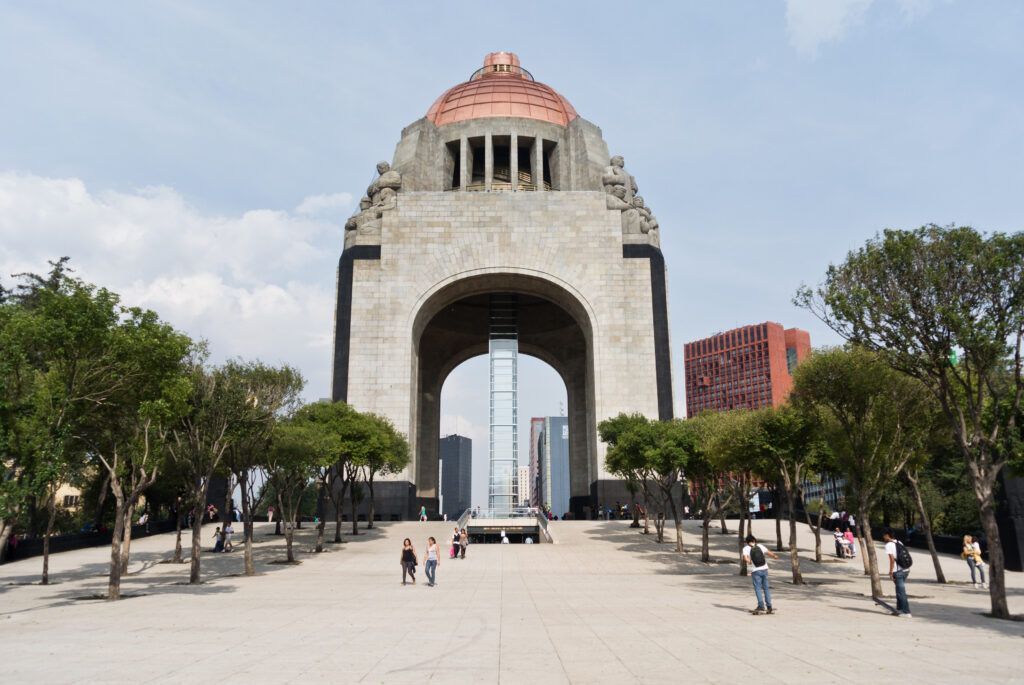 The Monumento a la Revolución is an imposing landmark located in the Plaza de la República not too far away from Centro Historico.
Take the glass elevator up to enjoy a picturesque view of the city. There's a quaint café inside the monument as well.
If you decide to visit at night, the monument will be lighted up by colorful lights. The Plaza is a gathering point for many locals and special events are oftentimes hosted in this area.
Ancient Pyramids at Teotihuacan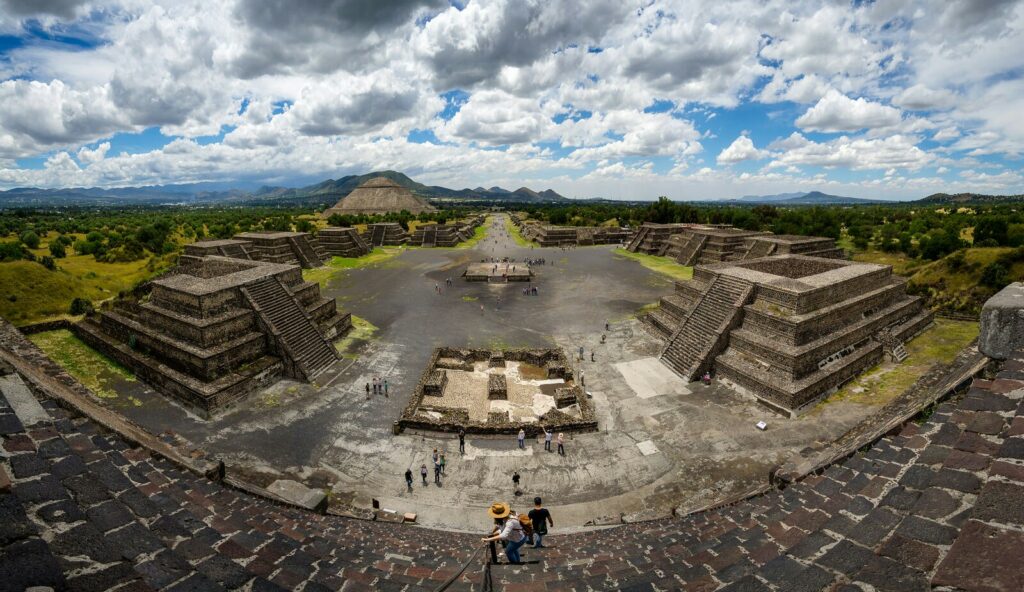 Teotihuacan is without a doubt the best day trip from Mexico City – especially if you love to learn about history.
It is an immense archaeological site features various monuments including two large pyramids: The Pyramid of the Moon and the Pyramid of the Sun.
The history of Teotihuacan and its founders are still mysterious to this day but it is believed to be built somewhere around 300 BCE. This historical complex is also believed to be the largest urban center at its peak – almost a thousand years before the Aztecs.
We opted for this private small-group tour and it turned out to be a great decision. Since we arrived early, we were able to avoid the large crowds and bus tours that arrived all at the same time.
For a more premium experience, try the hot air balloon tour experience. The balloons are up in the air very early so bring some extra snacks and water if you don't plan to have breakfast.
Other things to do
Mexico City is a vast city and we've only highlighted a small part of it. The list of things to do is endless.
Come to Mexico City, you won't regret it.
If you have spare time, these are a few other things to consider:
El Ángel (Monumento a la Independencia) in Reforma
Local markets: La Ciudadela, Mercado de San Juan, Mercado Coyoacan
Polanco: This beautiful wealthy area has two unique museums (Soumaya Museum and Museo Jumex), the best restaurants in the city, and luxury shopping malls
Explore Centro Historico
Top of Torre Latinoamericana
Come to Mexico City! You won't regret it and you will definitely want to come back.
Did we miss anything? What do you think are the best things to do in Mexico City?
Looking to book your next trip? Check out the following services we use!
Support NextTravelTips by sharing our content and using the links in our articles to shop. We may receive a small commission (at no extra cost to you) so we can contribute to create helpful free content. Thank you, we appreciate it!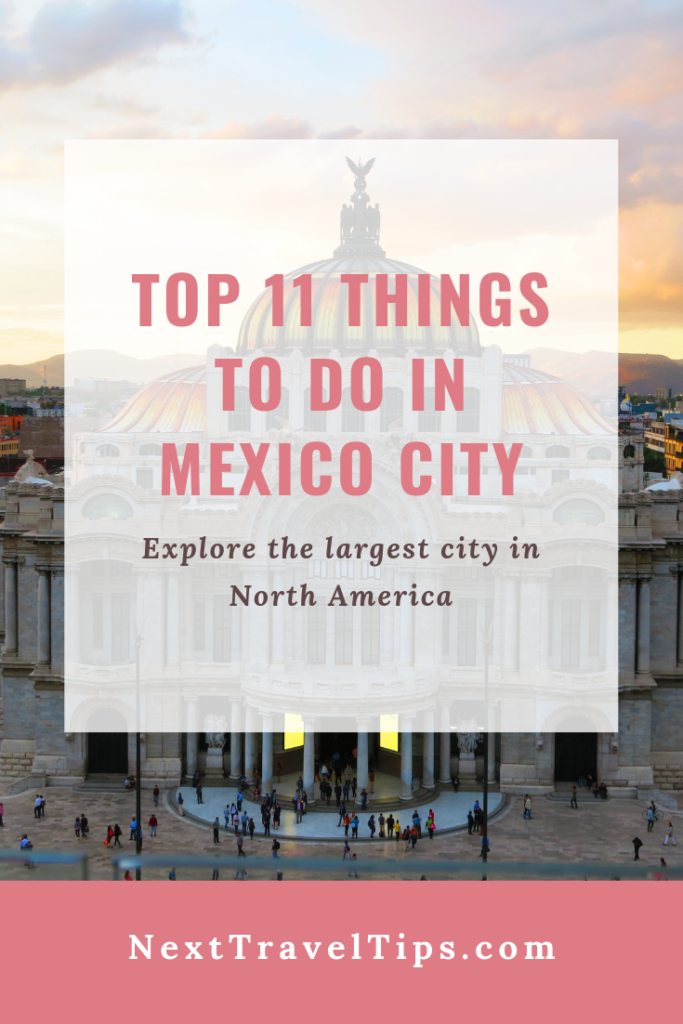 Please follow and like us: